2022 Nacimiento Open House
When: December 18th; 1-4pm
At: Taylor-Mesilla Historic Property
For the safety of visitors, volunteers, and J. Paul Taylor:

MASKS are MANDATORY.
We ask that all guests be FULLY VACCINATED.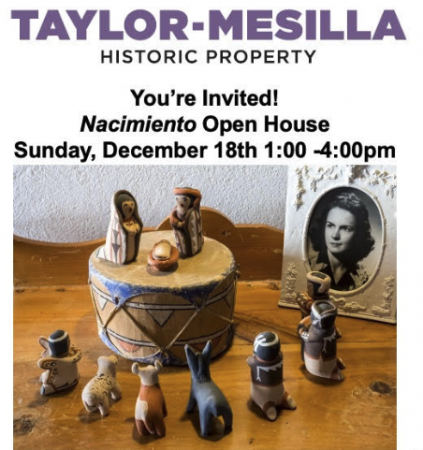 On December 18, visit the Taylor-Mesilla Historic Property and explore its collection of more than 200 nativity scenes from around the world! Visits will be available in blocks of 15 minutes.
Admission will be $5 for adults, and free for children 16 years old and younger. Free admission for 2022 – 2023 members of Taylor Friends.
2020 Nacimiento Open House
Make a Contribution
A visit to the Taylor Home will be an amazing journey through New Mexico's past. Help us create an exhibit for the future interpretive center that engages all ages in the history, culture, and heritage of Mesilla and the borderlands.
With money raised last year and your continuing support, we will be able to work with an exhibit designer to plan the interpretive center.
Honor J. Paul Taylor's 102nd birthday with a $102 donation towards the development of the Taylor Interpretive Center. Donations of $102 include a Taylor Friends membership.